Main content starts here, tab to start navigating
Valentines Day 2020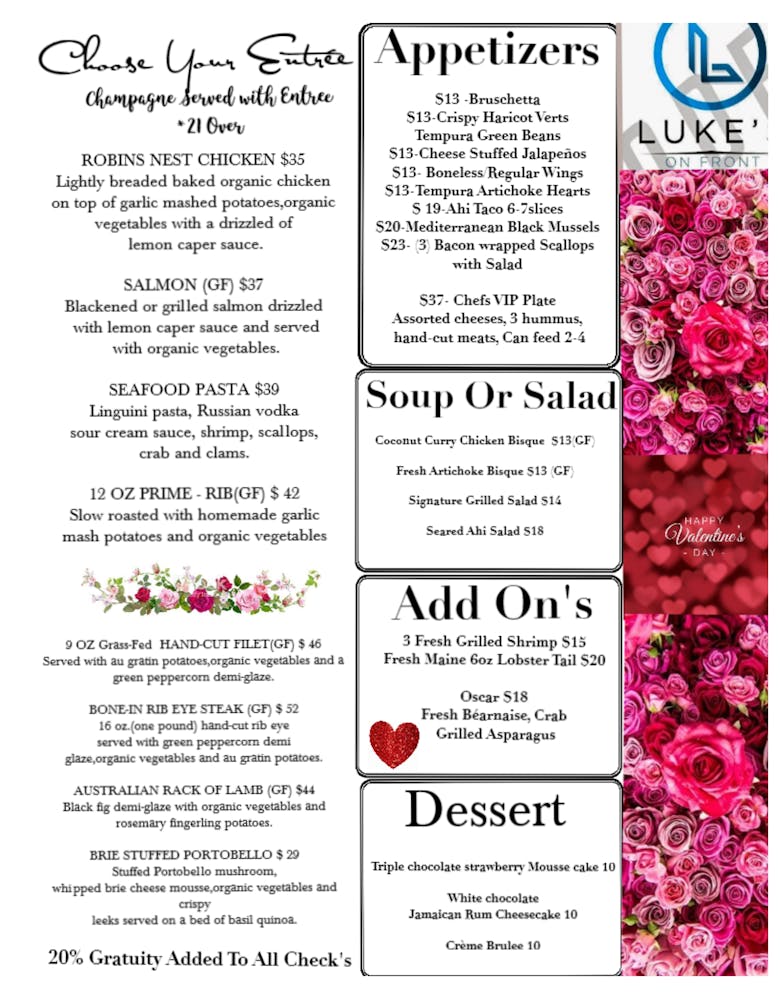 As life during the COVID-19 era continues to evolve, we remain committed to helping you thrive. We're here for you, and we'll keep you updated. Thank you for doing your part to protect yourself, your loved ones, and your communities.

As part of our commitment to the health and safety of our communities, we're taking action to address social justice and confront deep-rooted inequities in our country.

We are Open. From the first day of Re-Open we were on of the last as staff had to do a Osha/CoVId-19 packet. .....Staff gets temperature checks in a log book before every start of shift
......All customers get their Temperatures checked at the door upon entering
...... All Customers are asked to wash their hands or use or special sanitizer that's ok for kids, eczema and psoriasis before the host takes you to your table
.......Restaurant is cleaned to the point the walls might be scratch n sniff cause we love thy amazing clean smell. Also have Uv lights to clean after hours ......Luke's is an Open-Air Rooftop Restaurant and Bar
......Luke's staff has all been tested prior and we will continue to test every two weeks to ensure we flatten the curve and keep our staff and customers safe as we can possible control 🙌🏻❤️
......Plenty of social distancing
......Contactless menu that you Scan at your table and can also pay as well if you so choose to do so.
.....Fresh, Organic, Scartch Kitchen, No heat lamps and No Microwave
..... Customers are asked to wear mask until seated at their table
.....Sanitizers are through out the restaurant ..... we have masks to purchase for $2 and $3 because let's face it we all get out and sometimes forget them
....WE HAVE DONE SO FROM DAY ONE on ReOPEN
.....We can make special accommodations for those who are high risk and want to feel normal but need to keep a larger distance as a preCautionary.
Call US @ 951-699-9900.#lukesonfront #oldtowntemecula #temecula #washyourhandsplease #rooftop #rooftoprestaurant #rooftopviews #bar #love #fresh #organic #scratchkitchen
Info below on Coronavirus and how to properly wear your mask.
https://healthy.kaiserpermanente.org/health-wellness/coronavirus-information/prevention-treatment-caregiving


https://files.covid19.ca.gov/pdf/guidance-dine-in-restaurants.pdf
Download PDF