Main content starts here, tab to start navigating
MENUS
NOW YOU CAN ORDER ONLINE
Slide 1 of 3
Slide 2 of 3
Slide 3 of 3
Fun night at Lukes 6th year Halloween Monster Bash. Rooftop party where we go all out and staff dressed to kill. Colored smoke bombs, Live DJ, Drink Specials.
COSTUME CONTEST
STARTS AT 9PM

LUKE'S HAS THE DIRECT TV NFL SUNDAY TICKET, AS WELL AS THE MONDAY AND THURSDAY GAMES.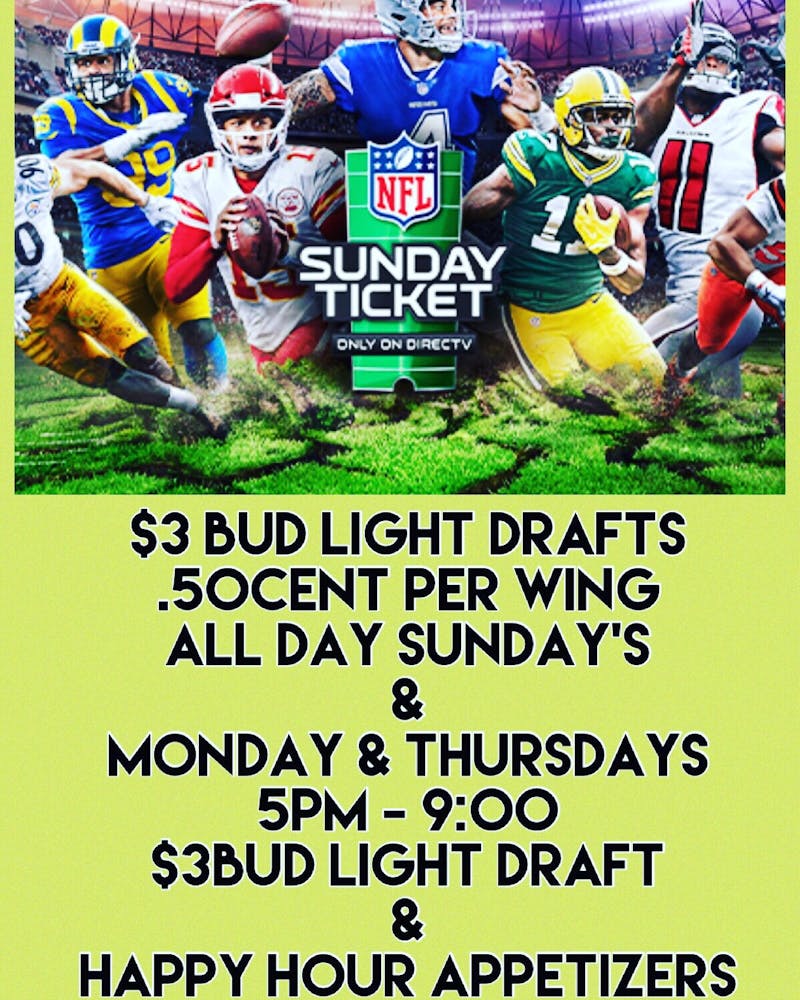 All Selections Come With Fresh Fruit or Fries (Gluten-Free)- Can Substitute for a Vegetable Patty.
All Can Be Made Protein Style-Lettuce With No Bread or Wrap Style
Add Bacon $2.50 | Add Avocado $2 | Add Roasted Jalapeño $1.50 | Add Egg $2.50
$2 Upcharge for Garlic Parmesan/Truffle Sea Salt/Mushroom Fried
Chipotle Chicken Wrap

Organic grilled chicken, lettuce, red onion, tomato and spicy home-made chipotle aioli.

$12

Chicken Walnut Sandwich

Candied walnuts, chopped grilled organic chicken, red onion, apples, organic field greens with a curry aioli, balsamic dressing, on a ciabatta bun.

$13

Blackened Chicken Sandwich

Blackened organic chicken breast, lettuce, tomato, feta cheese, drizzled with home-made blue cheese aioli on a ciabatta bun.

$12

Homemade Turkey Burger

Roasted jalapeño, cheddar, avocado, lettuce, tomato, onion, dijonaise on a toasted potato bun.

$13

Smoked Turkey Melt Sandwich

Squaw bread, provolone cheese, lettuce, tomato, and onion.

$12

Seared Ahi Taco

Wasabi cream cheese with Thai chili sauce, wrapped in a crispy rice shell with micro greens.

$17

Ahi Tuna Burger

Seared ahi tuna, avocado, cilantro toasted sesame seeds, Napa green cabbage and a spicy ginger tartar.

$16
Finn's Peppercorn Burger

1/2 pound special blend peppercorn demi, drizzled in Cabernet pepperconr demi-glaze, lettuce, tomato, onion, Swiss cheese, and mushrooms

$14

Luke's Signature Burger

Special blend, fried egg, lettuce, tomato, grilled onions, American cheese with an aioli sauce.

$13

Larry's BBQ Meatloaf Sandwich

Home-made meatloaf, Swiss cheese, lettuce and tomato on a grilled sourdough toasted Parmesan bun.

$13

Portobello Mushroom Sandwich

Roasted red pepper, provolone cheese, basil, fresh pesto, lettuce, tomato, onion, grilled zucchini and grilled eggplant.

$14

Chris's Twisted Savage

1/2 lb special blend grass-fed, grilled onion, grilled jalapeños, hickory smoked bacon, pepper jack cheese, lettuce, tomato, chipotle aioli on a toasted pretzel bun.

$16.50

Finney Philley Ribeye Sandwich

Grass-fed center cut ribeye steak with roasted red and green bell peppers, melted provolone cheese, grilled onions on a hoagie roll.

$13.50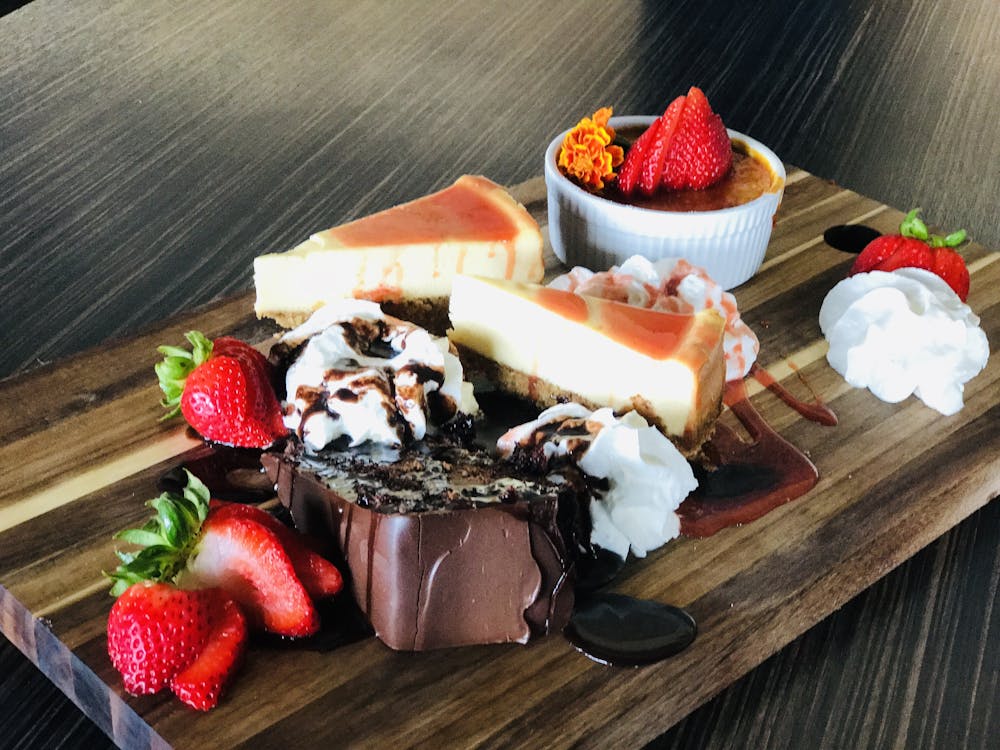 Desserts $8
Triple Chocolate Strawberry Mousse Cake

White Chocolate And Jamaican Rum Cheesecake

Chocolate Souffle

With vanilla bean ice cream

*Seasonal Desserts

Ask your server
Add 3 oz Filet- $9.95 | Add Chicken- $4.95 | Add (3) Shrimp $7.95 | Add Seared Ahi- $9.95
Signature Salad

Olive oil charred grilled romaine lettuce, with onions, tomatoes, avocado, and feta cheese with a cilantro lime vinaigrette

$9

Zesty Finn Salad

Zesty lime shrimp, cilantro, avocado, jalapeño, red onion, tomato with a sweet chilli lime vinaigrette

$15
VBK Salad

Apples, candied walnuts, goat cheese, organic field green, with a cranberry white balsamic dressing.

$11

Power Salad

Baby spinach, grilled organic chicken breast, avocado, cherry tomato, salt n pepper, pine nuts, goat cheese, olive oil and honey mustard vinaigrette.

$13
Artichoke Parmesan Bisque

$7

Soup of The Day

$7
All Entrees Come With Organic Vegetables, Except for Pasta Dishes.
Add-Ons: Shrimp(3) $9 | Oscar= Crab, Bearnaise & Aparagus $7 | Add GF Pasta $4
Robins Nest Chicken

Lightly breaded baked organic chicken on top of garlic mashed potatoes with a drizzled lemon caper sauce.

$24

Salmon (Blackened or Grilled)

Drizzled with lemon caper sauce and served with jasmine white rice and organic vegetables.

$27

Seafood Pasta

Linguini pasta, Russian vodka sour cream sauce, shrimp, scallops, crab, and clams.

$29

Make Your Own Pasta

Tomato concasse with garlic cream sauce

Salmon or Shrimp $24

Organic Roasted Veggies

$

14

Blackened or Grilled Chicken

$

16

Lamb Ossobuco

Organic root veggies, sun-dried tomato, Israeli couscous or garlic mashed potatoes.

$28
Finns Filet Trio

3 oz hand cut, grass-fed filet, peppercorn demi, blue cheese butter, crab with bearnaise and asparagus with light garlic mash potatoes, and organic vegetables.

$39

8 oz Hand-Cut Filet

Served with au gratin potatoes with green peppercorn demi.

$36

Bone-In Rib Eye Steak

14 oz hand-cut rib eye served with green peppercorn demi and au gratin potatoes.

$37

Rack of Lamb

Black fig demi with rosemary fingerling potatoes.

$34

Stuffed Organic Mushroom

Stuffed portobello mushroom, whipped Brie cheese mousse, crispy leeks served on a bed of basil quinoa.

No Cheese

$19
Sides - $7
Twisted Mac N Cheese

Topped with freshly roasted cauliflower

Add bacon $2.50

Add roasted jalapeños $1.50

Sun-Dried Mac N Cheese

Sun-dried tomatoes melted in our special blend cheese

Add roasted jalapeños $1.50

Add bacon $2.50

Roasted Organic Veggies Assortment

Organic Sauteed Mushrooms

Au Gratin Potatoes

Organic Asparagus With Bearnaise
Happy Hour
$2 Off
Monday- Friday 3:30 pm- 6:30 pm
Fried Calamri

With a ponzu sauce and soy ginger aioli.

$12

Ceviche

Fresh baja charred bass with an avocado garnish.

$12

Ahi Tartare Taco

Wasabi cream cheese with Thai chili sauce, wrapped in a crispy rice shell with micro greens.

$15

Edamame-Spicy

Steamed/wok fried in garlic and chili oil.

$9

Crisp Haricots Verts

Tempura battered crispy green beans with a homemade jalapeño sauce.

$9

Beer Battered Jalapeños

Local beer, fried jalapeños with a homemade blue cheese dip.

$9

Shrimp Cocktail

$14
Pick Your Fries

$7

Mushroom and Onions

Garlic and Parmesan

Truffle Sea Salt Oil

Scallop BLT

3 fresh bacon wrapped scallops, candied applewood bacon, micro green with a sweet chili lime vinaigrette with baguette

$15

Each Additional Scallops $3.95

Boneless Chicken Wings or Buffalo Wings

$9

Fresh Homemade Brushetta

Tomato concasse, grilled sourdough, baguette, asiago and drizzled balsamic.

$9

Tempura Artichoke Hearts

Basil and parmesan, with a soy ginger aioli sauce on the side/

$10

Chef's VIP Plate

Local Favorite! A massive assortment of cheeses, trio hummus (made from scratch), roasted red pepper, caramelized peach and red pepper chutney, original and spinach basil with assorted daily hand-cut meats.

$27

Hummus & Vegetable Platter

$13
Enjoy Bottomless Mimosas for an extra $15 dollars, Every Saturday & Sunday till 2pm
Breakfast Selections
Eggs

Bacon

Sausage

Fingerling Potatoes

Topped with cheese.

Scrambled Eggs

With Cheese.

Three Egg Omelets

Toppings: Ham, Mushrooms, Spinach, Tomato, Green and Red Bell Pepper and a cheese blend of Monterrey Jack and Cheddar Cheese.

Additional Protein: Organic Chicken

Additional Protein: Wild Caught Salmon
Slide 1 of 3
Slide 2 of 3
Slide 3 of 3