Main content starts here, tab to start navigating
MENUS
NOW YOU CAN ORDER ONLINE
Slide 1 of 3
Slide 2 of 3
Slide 3 of 3
LUKE'S HAS THE DIRECT TV NFL SUNDAY TICKET, AS WELL AS THE MONDAY AND THURSDAY GAMES.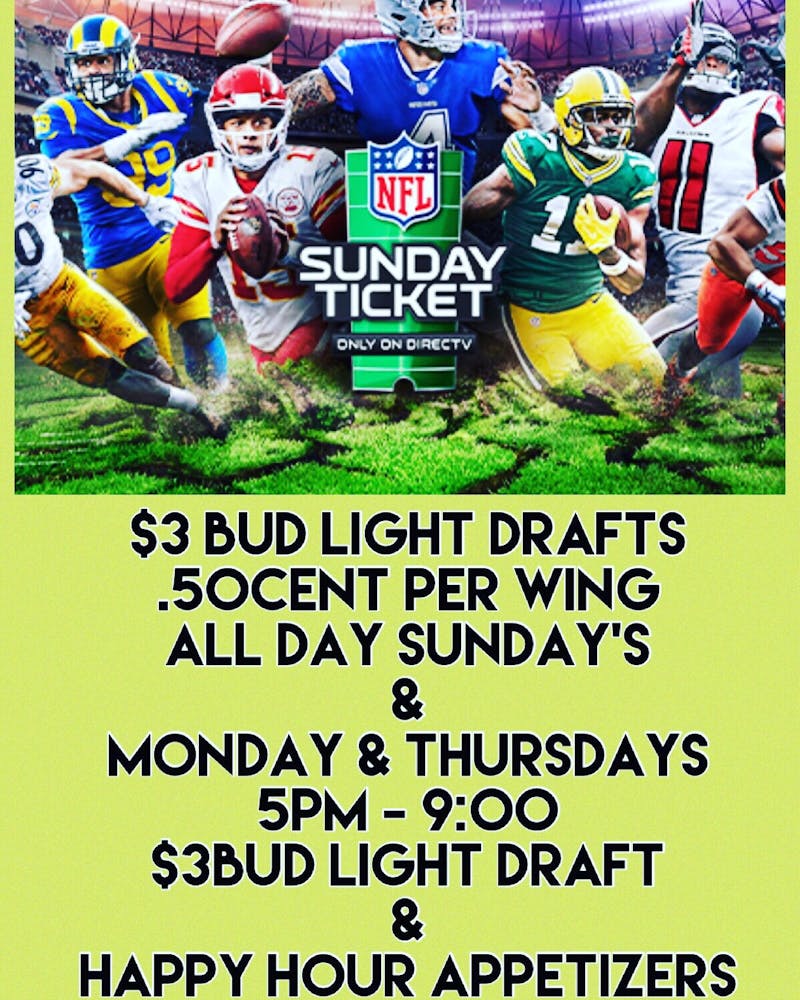 All Entrees Come With Organic Vegetables, Except for Pasta Dishes.
Add-Ons: Shrimp(3) $9 | Oscar= Crab, Bearnaise & Aparagus $7 | Add GF Pasta $4
Robins Nest Chicken

Lightly breaded baked organic chicken on top of garlic mashed potatoes with a drizzled lemon caper sauce.

$24

Salmon (Blackened or Grilled)

Drizzled with lemon caper sauce and served with jasmine white rice and organic vegetables.

$27

Seafood Pasta

Linguini pasta, Russian vodka sour cream sauce, shrimp, scallops, crab, and clams.

$29

Make Your Own Pasta

Tomato concasse with garlic cream sauce

Salmon or Shrimp $24

Organic Roasted Veggies

$

14

Blackened or Grilled Chicken

$

16

Lamb Ossobuco

Organic root veggies, sun-dried tomato, Israeli couscous or garlic mashed potatoes.

$28
Finns Filet Trio

3 oz hand cut, grass-fed filet, peppercorn demi, blue cheese butter, crab with bearnaise and asparagus with light garlic mash potatoes, and organic vegetables.

$39

8 oz Hand-Cut Filet

Served with au gratin potatoes with green peppercorn demi.

$36

Bone-In Rib Eye Steak

14 oz hand-cut rib eye served with green peppercorn demi and au gratin potatoes.

$37

Rack of Lamb

Black fig demi with rosemary fingerling potatoes.

$34

Stuffed Organic Mushroom

Stuffed portobello mushroom, whipped Brie cheese mousse, crispy leeks served on a bed of basil quinoa.

No Cheese

$19
Happy Hour
$2 Off
Monday- Friday 3:30 pm- 6:30 pm
Fried Calamri

With a ponzu sauce and soy ginger aioli.

$12

Ceviche

Fresh baja charred bass with an avocado garnish.

$12

Ahi Tartare Taco

Wasabi cream cheese with Thai chili sauce, wrapped in a crispy rice shell with micro greens.

$15

Edamame-Spicy

Steamed/wok fried in garlic and chili oil.

$9

Crisp Haricots Verts

Tempura battered crispy green beans with a homemade jalapeño sauce.

$9

Beer Battered Jalapeños

Local beer, fried jalapeños with a homemade blue cheese dip.

$9

Shrimp Cocktail

$14
Pick Your Fries

$7

Mushroom and Onions

Garlic and Parmesan

Truffle Sea Salt Oil

Scallop BLT

3 fresh bacon wrapped scallops, candied applewood bacon, micro green with a sweet chili lime vinaigrette with baguette

$15

Each Additional Scallops $3.95

Boneless Chicken Wings or Buffalo Wings

$9

Fresh Homemade Brushetta

Tomato concasse, grilled sourdough, baguette, asiago and drizzled balsamic.

$9

Tempura Artichoke Hearts

Basil and parmesan, with a soy ginger aioli sauce on the side/

$10

Chef's VIP Plate

Local Favorite! A massive assortment of cheeses, trio hummus (made from scratch), roasted red pepper, caramelized peach and red pepper chutney, original and spinach basil with assorted daily hand-cut meats.

$27

Hummus & Vegetable Platter

$13
Add 3 oz Filet- $9.95 | Add Chicken- $4.95 | Add (3) Shrimp $7.95 | Add Seared Ahi- $9.95
Signature Salad

Olive oil charred grilled romaine lettuce, with onions, tomatoes, avocado, and feta cheese with a cilantro lime vinaigrette

$9

Zesty Finn Salad

Zesty lime shrimp, cilantro, avocado, jalapeño, red onion, tomato with a sweet chilli lime vinaigrette

$15
VBK Salad

Apples, candied walnuts, goat cheese, organic field green, with a cranberry white balsamic dressing.

$11

Power Salad

Baby spinach, grilled organic chicken breast, avocado, cherry tomato, salt n pepper, pine nuts, goat cheese, olive oil and honey mustard vinaigrette.

$13
Artichoke Parmesan Bisque

$7

Soup of The Day

$7
All Selections Come With Fresh Fruit or Fries (Gluten-Free)- Can Substitute for a Vegetable Patty.
All Can Be Made Protein Style-Lettuce With No Bread or Wrap Style
Add Bacon $2.50 | Add Avocado $2 | Add Roasted Jalapeño $1.50 | Add Egg $2.50
$2 Upcharge for Garlic Parmesan/Truffle Sea Salt/Mushroom Fried
Chipotle Chicken Wrap

Organic grilled chicken, lettuce, red onion, tomato and spicy home-made chipotle aioli.

$12

Chicken Walnut Sandwich

Candied walnuts, chopped grilled organic chicken, red onion, apples, organic field greens with a curry aioli, balsamic dressing, on a ciabatta bun.

$13

Blackened Chicken Sandwich

Blackened organic chicken breast, lettuce, tomato, feta cheese, drizzled with home-made blue cheese aioli on a ciabatta bun.

$12

Homemade Turkey Burger

Roasted jalapeño, cheddar, avocado, lettuce, tomato, onion, dijonaise on a toasted potato bun.

$13

Smoked Turkey Melt Sandwich

Squaw bread, provolone cheese, lettuce, tomato, and onion.

$12

Seared Ahi Taco

Wasabi cream cheese with Thai chili sauce, wrapped in a crispy rice shell with micro greens.

$17

Ahi Tuna Burger

Seared ahi tuna, avocado, cilantro toasted sesame seeds, Napa green cabbage and a spicy ginger tartar.

$16
Finn's Peppercorn Burger

1/2 pound special blend peppercorn demi, drizzled in Cabernet pepperconr demi-glaze, lettuce, tomato, onion, Swiss cheese, and mushrooms

$14

Luke's Signature Burger

Special blend, fried egg, lettuce, tomato, grilled onions, American cheese with an aioli sauce.

$13

Larry's BBQ Meatloaf Sandwich

Home-made meatloaf, Swiss cheese, lettuce and tomato on a grilled sourdough toasted Parmesan bun.

$13

Portobello Mushroom Sandwich

Roasted red pepper, provolone cheese, basil, fresh pesto, lettuce, tomato, onion, grilled zucchini and grilled eggplant.

$14

Chris's Twisted Savage

1/2 lb special blend grass-fed, grilled onion, grilled jalapeños, hickory smoked bacon, pepper jack cheese, lettuce, tomato, chipotle aioli on a toasted pretzel bun.

$16.50

Finney Philley Ribeye Sandwich

Grass-fed center cut ribeye steak with roasted red and green bell peppers, melted provolone cheese, grilled onions on a hoagie roll.

$13.50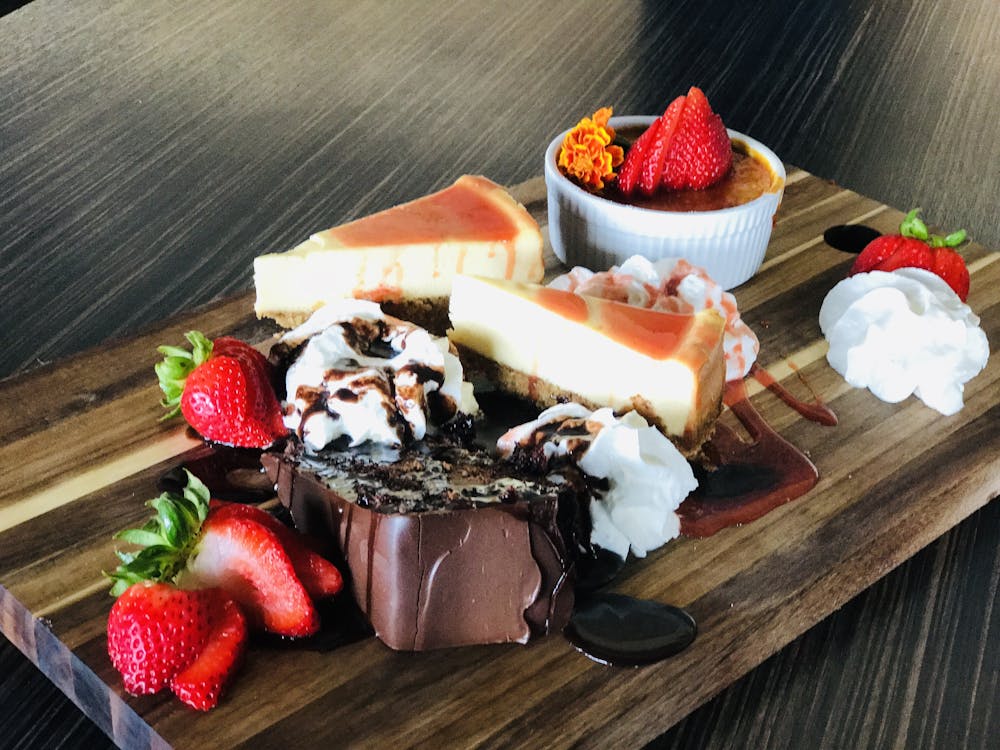 Desserts $8
Triple Chocolate Strawberry Mousse Cake

White Chocolate And Jamaican Rum Cheesecake

Chocolate Souffle

With vanilla bean ice cream

*Seasonal Desserts

Ask your server
Sides - $7
Twisted Mac N Cheese

Topped with freshly roasted cauliflower

Add bacon $2.50

Add roasted jalapeños $1.50

Sun-Dried Mac N Cheese

Sun-dried tomatoes melted in our special blend cheese

Add roasted jalapeños $1.50

Add bacon $2.50

Roasted Organic Veggies Assortment

Organic Sauteed Mushrooms

Au Gratin Potatoes

Organic Asparagus With Bearnaise
Enjoy Bottomless Mimosas for an extra $15 dollars, Every Saturday & Sunday till 2pm
Breakfast Selections
Eggs

Bacon

Sausage

Fingerling Potatoes

Topped with cheese.

Scrambled Eggs

With Cheese.

Three Egg Omelets

Toppings: Ham, Mushrooms, Spinach, Tomato, Green and Red Bell Pepper and a cheese blend of Monterrey Jack and Cheddar Cheese.

Additional Protein: Organic Chicken

Additional Protein: Wild Caught Salmon
Slide 1 of 3
Slide 2 of 3
Slide 3 of 3