Main content starts here, tab to start navigating
MENUS
NOW YOU CAN ORDER ONLINE
Slide 1 of 3
Slide 2 of 3
Slide 3 of 3
$10 (4) Breaded Bone-In Chicken Wings and (4) Buffalo Style white meat stuffed with cream cheese in an egg roll with sweet chili lime sauce and ranch on the side.
*No Substitutions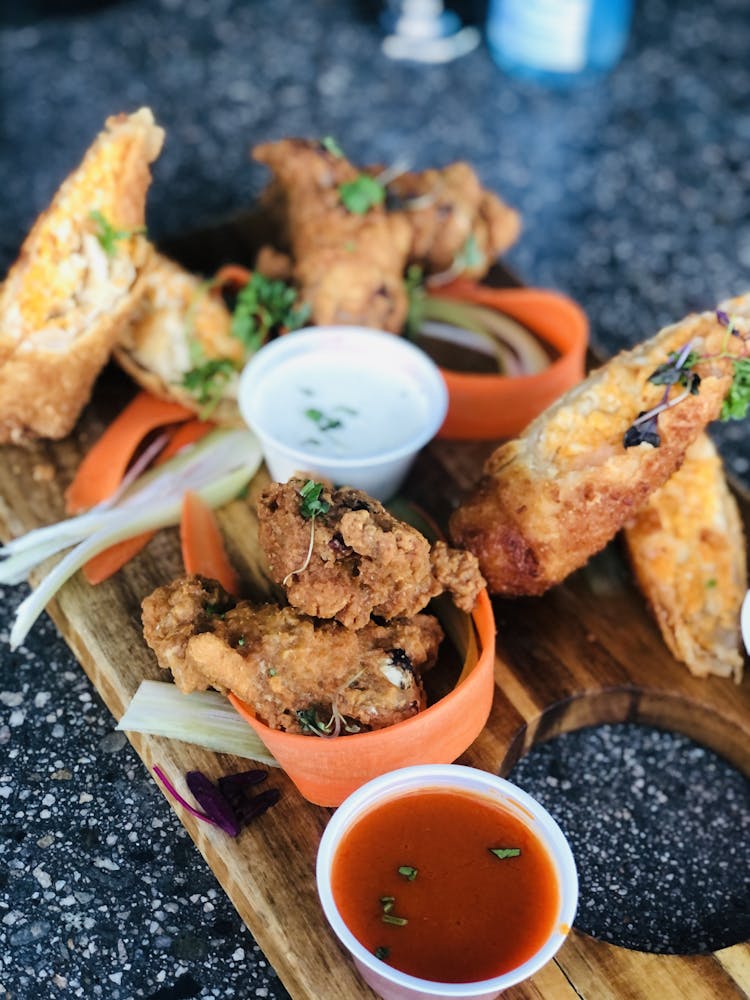 Add 3 oz Filet- $10 | Add Chicken- $6 Add (3) Shrimp-$8 Add Seared Ahi- $10| Add Salmon 6oz -$12.00
Signature Salad

Olive oil charred grilled romaine lettuce, with onions, tomatoes, avocado, and feta cheese with a cilantro lime vinaigrette

$12

Zesty Finn Salad

Zesty lime shrimp, cilantro, avocado, jalapeño, red onion, tomato with a sweet chilli lime vinaigrette

$18
VBK Salad

Apples, candied walnuts, goat cheese, organic field green, with a cranberry white balsamic dressing.

$12

Power Salad

Mixed Field Greens & Spinach, Oranges, Grapes, Strawberries, Cherry Tomatoes, Red Onion, Goat Cheese Mousse, Avocado Tossed in a Chili Lime Vinaigrette with Grilled Chicken

$18
Happy Hour
$2 Off
Monday- Friday 3:00 pm- 6:00 pm
Fried Calamri

Rice Flour dusted Calamari deep fried golden brown served with House Ponzu & Tartar Creme

$13

Ceviche

Lightly Blackened Fresh SeaBass, Fresno Peppers, Jalapeno Peppers, Red Onion, Cucumber, Tomato, Lemon & Lime served with Fried corn Tortilla Chips

$16

Ahi Tartare Taco

Fresh Seared Ahi over Organic Field Greens tossed with a Ginger Soy Vinaigrette inside a fried Rice Flour Tortilla finished with Wasabi, Sriracha & Micro Greens.

$18

Edamame-Spicy

Steamed/wok fried in garlic and chili oil.

$11

Crisp Haricots Verts

Tempura Battered Green Beans with a homemade Jalapeño Dip.

$11

Beer Battered Jalapeños

Local beer, fried jalapeños with a homemade blue cheese dip.

$9
Pick Your Fries

$7

Mushroom and Onions

Garlic and Parmesan

Truffle Sea Salt Oil

Scallop BLT

3 fresh bacon wrapped scallops, candied applewood bacon, micro green with a sweet chili lime vinaigrette with baguette

$18

Each Additional Scallops $3.95

Boneless Chicken Wings or Buffalo Wings

$12

Fresh Homemade Bruschetta

Tomato concasse, grilled sourdough, baguette, asiago and drizzled balsamic.

$11

Tempura Artichoke Hearts

Basil and parmesan, with a soy ginger aioli sauce on the side/

$11

Chef's VIP Plate

Local Favorite! A massive assortment of cheeses, trio hummus (made from scratch), roasted red pepper, caramelized peach and red pepper chutney, original and spinach basil with assorted daily hand-cut meats. It's Huge

$30

Hummus & Vegetable Platter

$15

Brussel Sprouts

Bacon and Garlic topped with a honey maple glaze

$13

Ahi Poke

Fresh Ahi Mix with Ponzu sauce on a bed of rice topped with avocado and cucumber and drizzle of wasabi cream and sriracha

$15
All Selections Come With Fresh Fruit or Fries (Gluten-Free)- Can Substitute for a Vegetable Patty.
All Can Be Made Protein Style-Lettuce With No Bread or Wrap Style
Add Bacon $2.50 | Add Avocado $2 | Add Roasted Jalapeño $1.50 | Add Egg $2.50
$2 Upcharge for Garlic Parmesan/Truffle Sea Salt/Mushroom Fried
Chipotle Chicken Wrap

Organic Blackened Grilled Chicken, Lettuce, Red Onion, Tomato with a spicy Chipotle Aioli wrapped in a Basil Flour Tortilla

$15

Chicken Walnut Sandwich

Organic Grilled Chicken chopped with Candied Walnuts, Red Onion, Apple & Organic Field Greens tossed in a Curry Aioli finished with Balsamic on a Ciabatta Bun.

$15

Blackened Chicken Sandwich

Blackened organic chicken breast, lettuce, tomato, feta cheese, drizzled with home-made blue cheese aioli on a ciabatta bun.

$15

Homemade Turkey Burger

Ground Turkey Burger with Roasted Jalapeño, Cheddar Cheese, Avocado, Lettuce, Tomato, Onion, Dijonaise on a toasted Potato Bun.

$14

Seared Ahi Taco

Fresh Seared Ahi over Organic Field Greens tossed with a Ginger Soy Vinaigrette inside a fried Rice Flour Tortilla finished with Wasabi, Sriracha & Micro Greens.

$19

Wham Bam Thank You Jam

1/2 lb Grass Fed Beef Patty topped with Lettuce, Tomato, Roasted Jalapenos, Onion, Garlic Aioli, Cream Cheese, Bacon and Onion Straws finished with a Roasted Red Pepper Jelly on a Brioche Bun

$17
Finn's Peppercorn Burger

1/2 lb Grass Fed Beef Patty topped with Lettuce, Tomato, Onion, Swiss cheese & Mushrooms finished with a Peppercorn Demi on a Ciabatta Bun

$16

Larry's BBQ Meatloaf Sandwich

Home-made Meatloaf (Grass Fed Beef & Pork) Swiss cheese, Lettuce, Tomato & Onion on Parmesan Grilled Sourdough.

$16

Portobello Mushroom Sandwich

Roasted Red Pepper, Provolone Cheese, Basil, Basil Pesto, Lettuce, Tomato, Onion & Grilled Zucchini.

$14

Chris's Twisted Savage

1/2 lb Grass Fed Beef Patty topped with Lettuce, Tomato, Grilled Onions, Grilled Jalapenos, Bacon, Pepper Jack Cheese, with a Chipotle Aioli on a toasted Pretzel Bun.

$17

Finney Philley Ribeye Sandwich

Grass Fed center cut Ribeye Steak with Roasted Red and Green Bell Peppers, Grilled Onions topped with Provolone Cheese on a Hoagie Roll.

$16
Our In House Made Artichoke Parmesan Bisque. We use Real Artichoke hearts and blend into a cream base bisque.

$7

This is a must try ❤️ Soup of the day being made from scratch now

$7
All Entrees Come With Organic Vegetables, Except for Pasta Dishes.
Add-Ons: Shrimp(3) $8 | Oscar= Crab, Bearnaise & Aparagus $9 | Add GF Pasta $4
Robins Nest Chicken

Lightly breaded baked organic chicken on top of garlic mashed potatoes with a drizzled lemon caper sauce.

$26

Salmon (Blackened or Grilled)

Drizzled with lemon caper sauce and served with jasmine white rice and organic vegetables.

$28

Seafood Pasta

Linguini pasta, Russian vodka sour cream sauce, shrimp, scallops, crab, and clams.

$33

Make Your Own Pasta

Tomato concasse with garlic cream sauce

Salmon or Shrimp $26

Organic Roasted Veggies

$

14

Blackened or Grilled Chicken

$

17
Finns Filet Trio

3 oz hand cut, grass-fed filet, peppercorn demi, blue cheese butter, crab with bearnaise and asparagus with light garlic mash potatoes, and organic vegetables.

$42

8 oz Hand-Cut Filet

Over chef potatoes, vegetable medley finished with a green peppercorn Demi.

$38

Bone-In Rib Eye Steak

Over chef potatoes, vegetable medley finished with a peppercorn Demi

$42

Rack of Lamb

Black fig demi with rosemary fingerling potatoes.

$35

Stuffed Organic Mushroom

Stuffed portobello mushroom, whipped Brie cheese mousse, crispy leeks served on a bed of basil quinoa.

No Cheese

$20

Scallop BLT

Large entree size mixed green with red onion, cherry tomatoes, avocado and six fresh hickory smoked bacon wrapped Scallops with a light homemade Ponzu sauce. Light, refreshing and mouth watering

$29
Sides
Twisted Mac N Cheese

Topped with freshly roasted cauliflower

Add bacon $2.50

Add roasted jalapeños $1.50

Sun-Dried Mac N Cheese

Sun-dried tomatoes melted in our special blend cheese

Add roasted jalapeños $1.50

Add bacon $2.50

Roasted Organic Veggies Assortment

$7

Organic Sauteed Mushrooms

$7

Organic Asparagus With Bearnaise

$9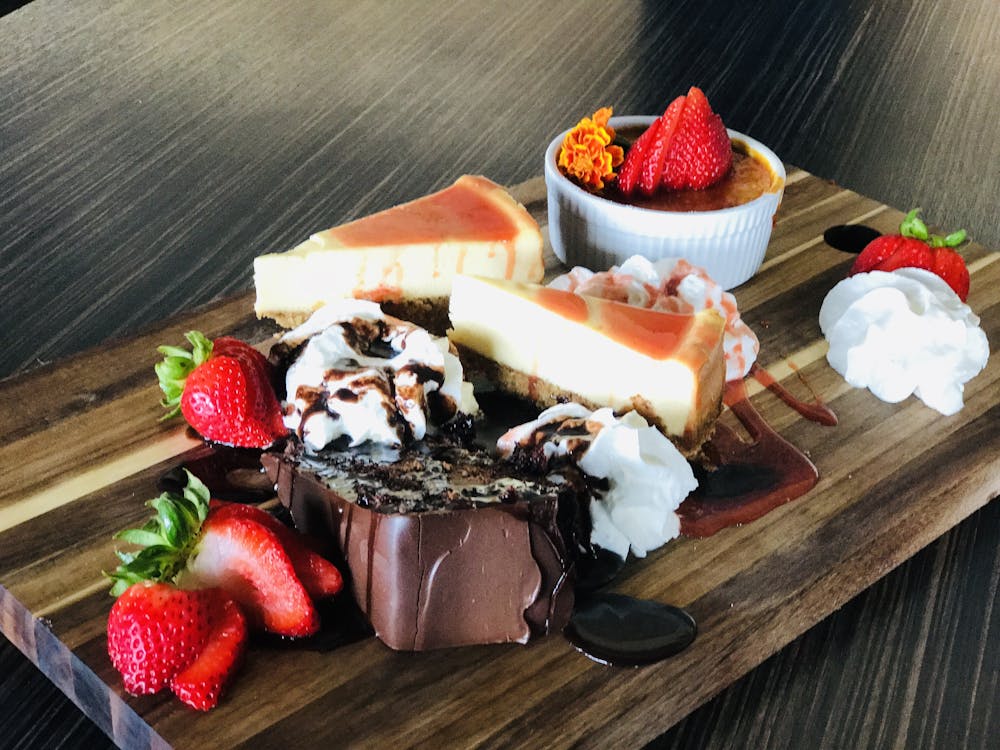 Desserts $9
Triple Chocolate Strawberry Mousse Cake

White Chocolate And Jamaican Rum Cheesecake

*Seasonal Desserts

Ask your server Today we have Fresh Homemade White Chocolate Pumpkin Cheesecake

Creme Brûlée

$9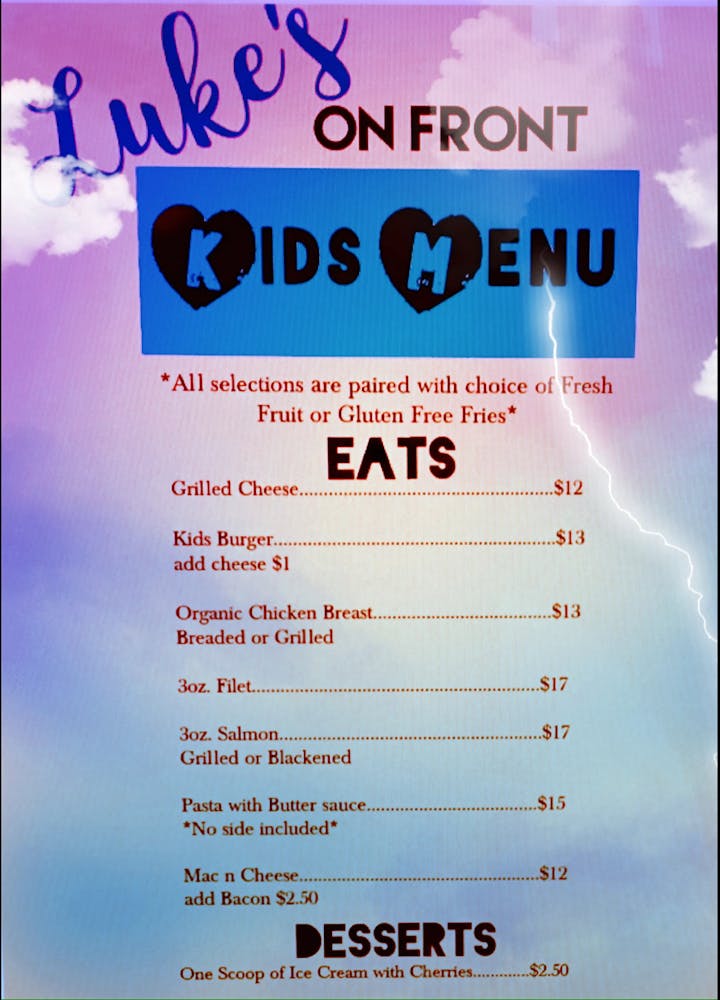 As life during the COVID-19 era continues to evolve, we remain committed to helping you thrive. We're here for you, and we'll keep you updated. Thank you for doing your part to protect yourself, your loved ones, and your communities.

As part of our commitment to the health and safety of our communities, we're taking action to address social justice and confront deep-rooted inequities in our country.

We are Open. From the first day of Re-Open we were on of the last as staff had to do a Osha/CoVId-19 packet. .....Staff gets temperature checks in a log book before every start of shift
......All customers get their Temperatures checked at the door upon entering
...... All Customers are asked to wash their hands or use or special sanitizer that's ok for kids, eczema and psoriasis before the host takes you to your table
.......Restaurant is cleaned to the point the walls might be scratch n sniff cause we love thy amazing clean smell. Also have Uv lights to clean after hours ......Luke's is an Open-Air Rooftop Restaurant and Bar
......Luke's staff has all been tested prior and we will continue to test every two weeks to ensure we flatten the curve and keep our staff and customers safe as we can possible control 🙌🏻❤️
......Plenty of social distancing
......Contactless menu that you Scan at your table and can also pay as well if you so choose to do so.
.....Fresh, Organic, Scartch Kitchen, No heat lamps and No Microwave
..... Customers are asked to wear mask until seated at their table
.....Sanitizers are through out the restaurant ..... we have masks to purchase for $2 and $3 because let's face it we all get out and sometimes forget them
....WE HAVE DONE SO FROM DAY ONE on ReOPEN
.....We can make special accommodations for those who are high risk and want to feel normal but need to keep a larger distance as a preCautionary.
Call US @ 951-699-9900.#lukesonfront #oldtowntemecula #temecula #washyourhandsplease #rooftop #rooftoprestaurant #rooftopviews #bar #love #fresh #organic #scratchkitchen
Info below on Coronavirus and how to properly wear your mask.
https://healthy.kaiserpermanente.org/health-wellness/coronavirus-information/prevention-treatment-caregiving


https://files.covid19.ca.gov/pdf/guidance-dine-in-restaurants.pdf
Download PDF